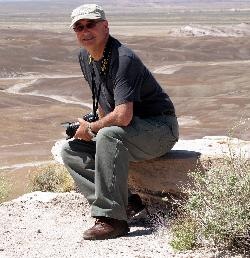 Georges Bénay is a Toronto-based writer and freelance photographer. He is the author of the Nomad series: the recently released the Nomad's Premonition and Nomad on the Run. His fictional short stories Cappadocia Can Wait, Shadows and Broken Dreams and Delusions were short listed in the Summer Literary Unified contests. His award winning pictures have been featured in several magazines and book covers.

I am a story teller. I like my stories to fire the reader's imagination and connect with the human spirit. I am not satisfied with anything less.

I approach writing like my photography, always with an emotion in mind. Behind the lens of the camera, I seek to convey a thought, a mood, or an impression. My images must never leave the observer indifferent. I paint word pictures with the same goal in mind. My stories must be evocative.

If a story seems flat, the beginning not gripping, the wording too clumsy, or the ending too obvious and unsatisfactory, I start over again until I get it right. I'm relentless in the pursuit of the "wow" factor. That commitment to excellence is my reward as a story teller.


Stories to me are a series of vignettes, artfully woven together so that everyone can experience a range of emotions. Just like a photograph, I want a story to have impact. I've spent years honing my writing skills and must confess I still do not understand where the stories and inspiration come from. But when I hit the nail on the head, watch out. I can be very passionate. And then I can't wait to get back to the keyboard with a new story to tell.


Click on the link www.georgesbenayphotoart.fototime.com to view my photo galleries and purchase prints.